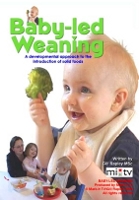 Baby-led weaning DVDs
There are several DVDs on baby-led weaning. The three I have been involved with are designed mainly for organisations and professionals to use to show to groups of parents, or to train their staff and colleagues in BLW. Unfortunately, these apps and DVDs are temporarily unavailable. However, a very useful DVD that IS available is the one produced by Real Baby Milk - see below for details.
The original DVD, Baby-led Weaning, is a fact-based DVD that explains what BLW is and why it makes sense. It shows how to prepare food so that babies can handle it and how to make sure they are safe while eating. It explains what to expect in terms of mess and how to prepare for this, as well as how to reduce milk feeds.
The second DVD, Discovering Baby-led Weaning, explores BLW through the experiences of parents who have tried it. They tell us why they decided to do it, what it has given them and their baby, and how they have coped with explaining it to others.
Both these DVDs show just how clever babies are, how quickly they learn and how much fun eating with them can be. However, the information provided is complementary rather than repetitive. So, while parents will probably find Discovering Baby-led Weaning more useful, professionals will probably want to watch the original DVD as well.
The third DVD, Baby-led Weaning: The First Six Months, follows the progress of baby Oscar as he shares meals with his family. It's a fun and informative look at BLW through the eyes of one mum and dad.
These three DVDs can normally be ordered from Baby-led Weaning DVDs or Mark-it Television. They have also been made into inexpensive mobile phone apps, downloadable from the iTunes store. Unfortunately, both the apps and the DVDs are temporarily unavailable - please watch this space for updates.
The DVD produced by Real Baby Milk is called
Ready, Steady... Eat
. Click
here
to find out more.