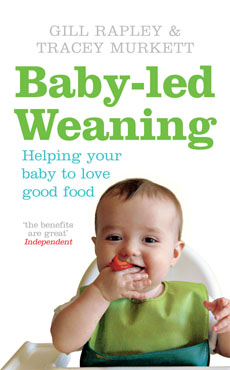 My books
Tracey Murkett and I wrote Baby-led Weaning: Helping Your Baby to Love Good Food in 2008 and updated it in 2019. It was, and still is, the definitive book on baby-led weaning. It explains why it makes absolute sense to introduce babies to solid foods this way. It's full of tips for how to use BLW with your baby - and what to expect when you do. Of course, research into the foods babies need is ongoing, and recommendations change (and books become outdated) as a result. Always check with your friendly neighbourhood health professional for the latest guidelines about which foods to offer at what age.
So far our original book has been translated into 20 languages - from Finnish to Indonesian and German to Japanese. English-speaking readers, please note: some retailers (notably Amazon) carry both the UK and US editions without making it clear that they are the same book (with slightly different titles) - it just depends whether you prefer nappies or diapers!
If you're looking for simple ideas for family meals that your baby can share, our second book, The Baby-led Weaning Cookbook (UK edition, hardback), published in November 2010, is for you. It's a compilation of recipes sent to us by BLW parents, with just enough basic information about BLW to enable anyone who hasn't read the first book to give it a go. In the USA the Cookbook is available in both hardback and paperback.
Baby-led Breastfeeding: How to get breastfeeding to work with your baby's help is an up-to-date 'how to' book that will help you to get breastfeeding to work for you. If you prefer diapers to nappies, go for the US edition.
Baby-led Parenting: The easy way to nurture, understand and connect with your baby is full of tips and suggestions that will help you to get to know your baby and interpret what he needs, helping you adjust easily to being a parent.
The Baby-led Weaning Quick & Easy Recipe Book came out in August 2017. It's a great mix of fast, simple recipes for wholesome family food that everyone will enjoy. (Please note that in the USA this book was originally titled The Baby-led Weaning Family Cookbook but has now been renamed The Baby-led Weaning Cookbook, Volume 2.)
My latest book,Your Baby Can Self-Feed, Too, written with Jill Rabin, covers how to implement an adapted form of BLW (ABLW) with babies who have feeding difficulties or challenges. It's been written for the American market but has lots of relevance for babies everywhere. It's out now in the US and coming soon in the UK - currently available for pre-order. It's in paperback and Kindle, with Audible to follow soon.
You can order all these books from any good bookshop, or direct from Amazon by clicking on the links below (the first six buttons are for the UK editions and the others are the American ones). You can order the Polish edition of Baby-led Weaning: Helping Your Baby to Love Good Food from within the UK here.
Gill Rapley is a participant in the Amazon EU Associates Programme, an affiliate advertising programme designed to provide a means for sites to earn advertising fees by advertising and linking to Amazon.co.uk, and in the Amazon Services LLC Associates Program, an affiliate advertising program designed to provide a means for sites to earn advertising fees by advertising and linking to amazon.com. Amazon and the Amazon logo are trademarks of Amazon.com, Inc. or its affiliates. As an Amazon Associate I earn from qualifying purchases.