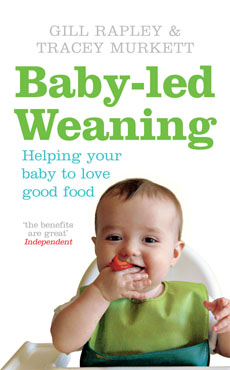 Our books: Baby-led Weaning and Baby-led Breastfeeding
Tracey Murkett and I wrote Baby-led Weaning: Helping Your Baby to Love Good Food in 2008. It was, and still is, the definitive book on baby-led weaning. It explains why it makes absolute sense to introduce babies to solid foods this way. It's full of tips for how to use BLW with your baby - and what to expect when you do. So far it has been translated into Finnish, Croatian, Spanish and Polish. Polish people living in the UK can order the Polish edition here. Baby-led Weaning: The Essential Guide to Introducing Solid Foods is the American version, available since October 2010. The text is almost identical to the UK original, but with American spellings and terms (such as 'diaper' for 'nappy'). If you already have a copy of the UK version, you don't need this one!
If you are looking for simple ideas for family meals, our second book, The Baby-led Weaning Cookbook (UK edition, hardback), published in November 2010, is for you. It's a compilation of recipes sent to us by BLW parents, with just enough basic information about BLW to enable anyone who hasn't read the first book to give it a go. In the US the Cookbook is available as both a hardback and a paperback.
Our latest book is Baby-led Breastfeeding: How to get breastfeeding to work with your baby's help. It's an up-to-date 'how to' book that will help you to get breastfeeding to work for you. The US edition is now available too, so if you prefer diapers to nappies, go for that one.
Order our books direct from Amazon by clicking on the links below (the first three are the UK editions and the other four are the American ones):
Gill Rapley is a participant in the Amazon EU Associates Programme, an affiliate advertising programme designed to provide a means for sites to earn advertising fees by advertising and linking to Amazon.co.uk, and in the Amazon Services LLC Associates Program, an affiliate advertising program designed to provide a means for sites to earn advertising fees by advertising and linking to amazon.com.